A lot of you know, I'm a big fan of white and light colors, and of course, white!
I decided to do a dark color...almost black. I call it that because I mixed the color myself out of chalk paint I had on hand. I didn't want to go out and buy when I could mix it. Are you with me?
I have painted things black before, but follow along and see if you can see what I mean.
I found this steal of a deal this past weekend at a local garage sale. Honestly, I've been looking for a good deal all summer. The kind that gets you very excited. This one was it.
I wasn't sure what color. I've done white, sugar cane, aqua, and maybe one other I can't think of the color. I wanted to do something different.
So here's what I did.
This is how I did it...
1.There were a few repairs to tackle, but nothing major.
2.I painted it in my almost black mix.
3.The detail was painted with linen.
4.I clear waxed the whole thing.
5. I dark waxed the white details
6. I used white wax on the whole piece.
7. The inside was painted in linen
8. I used white rub and buff on the hardware. The door handle I pulled out of my stash of handles since it was missing.
I've never used white wax on an entire piece, especially not an almost black one. Do you like the look?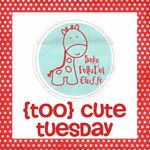 Crafts a la mode