If only that were reality. I have a small closet. No chair can even fit in let alone all the goodies I am going to show you. My dream closet would have...
Are you ready?
Ok, I won't make you wait any longer...
Here is the first thing you will see...the entry way. Isn't this fantastic? Use an old armoire front or build a new one to fit the doorway of the closet. What a statement.
As you open the doors, you will see an awesome chaise lounge
between two antique pillars....
Flanked by rows of clothes and shoes.
I feel like a fireplace is a fantastic idea to keep you cozy while you pick out that special outfit.
This display of shoes is a must. Color coordinated!
I love the chair too. You have to have a place to sit and put the shoes on.
Of course, we need a fabulous set of mirrors to make sure everything looks just right.
It would be nice if that set of mirrors also doubled as a jewelry safe like this one.
There simply must be a place to sit and do makeup! This vanity is perfect. I love the wood floors in this photo too.
Then if you have wood floors you simply must have a super soft rug.
Like this one.
Fresh flowers would be a must. I can't decide between peonies and lilac so I think I would go back and forth.
Wow, what a handbag display! Gotta have it, wouldn't you agree?
I really like how these pants are hung. A nice way to access them and they save space!
I searched and searched to see if there was a type of closet that you could pull out the sections and turn them around for a different style or season of clothes. This one has lots of pull out sections, which is nice, but I still think one that could keep your summer clothes in the back during winter would be perfect. You simply pull the whole rack out when summer is back and turn it around so winter clothes move to the back.
Can you picture it?
A few extra details... I love, love, love this ceiling! As long as I'm dreaming and designing it, this would be perfect.
An elegant crystal chandelier would be a perfect addition as well.
If you would like to see some of my other pins for this style of dressing room, see my
pinterest board
Thank you to
Compass
for having this fun idea. I loved being a part of it! It was nice to dream a little and I did get some great ideas for some of my projects. Maybe one day I will have a closet like this.
Obviously I like the dramatic and elegant. What is your style of closet? Did I forget anything you would add?
Featured at: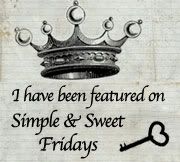 sharing with: