At the time I picked up this antique fainting couch, I was ready to take on the enormous task of recovering it.
After tearing off all the old fabric, hundreds of buttons, and filling, it sat in my garage all winter.
I've done some tufting before, but this was by far the hardest one I have ever done. It required 2 people since I could not reach both the top and the bottom at the same time.
Isn't this one of the neatest fainting couches you have ever seen? I just love the pillar at the head.
Here it is all stripped down. Some of the springs needed to be retied. That is the first thing I tackled last week.
Once I was satisfied with the springs, I covered them with fabric. You can use any type of base fabric. Burlap is commonly used. This time I used this heavy fabric because I have a huge roll of it.
Next was the foam and stuffing. I found these foam bed covers at Bed Bath and Beyond on clearance so they only cost me about $7 each. They are cot sized which is the perfect size for this piece. I also used batting between the foam and over the foam. It was secured with staples near the bottom just like the fabric was.
The fabric choice and tufting came next. I wanted something timeless and neutral so I picked up this light fabric. You can't tell, but it has spots of beige and cream throughout.
I covered my buttons to get them ready for the tufting process.
Here it is all finished. I only used 33 buttons as opposed to the hundreds, and let me tell you, that was enough. My hands and arms were very tired!
I used hemp oil on the tired wood to bring it back to life.
I'm very happy with the results! It was hard work doing the tufting, but the rest was easy. Well worth restoring this antique fainting couch.
Featured at: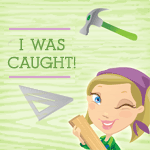 Sharing with: