Monday I shared what I did for my first project with this broken highboy. Today I will share my second project with you.
You can see the first project
here
.
For the second project, I took the top section off and added some legs.
From here I decided that the piece was too tall for a bench and cut off the sides that created the gap.
I used the top to make an attached cushion with some lovely black and white damask fabric. The base was painted black. I attached it using some screws from inside where the drawer goes.
I just love those legs!
So next time you find a broken highboy, really look at it before passing by or tossing it.
Featured at: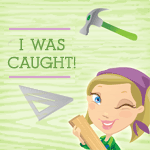 Sharing with: