This is my first attempt at making one of these chair and headboard benches. It turned out great and I am eager to get some pieces to make more.
This project started with a pair of these chairs. While one was very sturdy, the other was not. It's not easy to fix a wobbly chair and make the sturdiness last. So, I decided to take them apart and build a bench.
I have had this headboard for a while and am finally able to put it to use. I did a dry fit test here to see how it would look.
My next step was to build the box frame so everything would be nice and sturdy.
I added the headboard, some slats for the seat and started to paint it.
Once the paint was dry and the bench was sealed, I added a neat tufted cushion.
Here is a close up of the wood I used for the front. Was probably a dresser skirt at one point in time.
Hope you enjoyed this post. If you are interested in learning how to make this cushion, let me know and I will do a tutorial.
Featured at: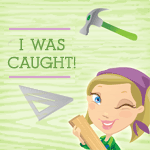 Sharing with: