I like the inspiration pinterest gives me. I pin things to try all the time. I don't always get to those pins, but as it gets colder outside, I am going to do my best to get something from one of my boards done each month.
Here are 2 things I finished this week, inspired by pinterest.
These eclectic plant stands are made using old lamp or chandelier pieces and large spindles or ballusters.
This next project is a little more involved... starting with 2 shutters
I put together 2 shutters with a piece from an old side table.
I added a top from a dresser I found road side. Casters on the bottom...
Some wood on both sides to create a little more stability and a place to put things.
Decision time is always hard- what color to paint it. Sometimes I want to just go with the basics so it sells fast, but this time I wanted to try a different color.
This color is called pear. It's from Martha Stewart's vintage furniture pain line.
This cart could be used in the kitchen, as a beverage station, or garden cart.
What would you use it for?
What have you made from your pinterest boards lately?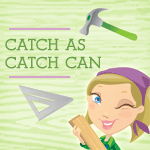 Craftsalamode