Painting furniture is one of those things that we re purposers do. It's not something I post about often, but when I do I like to give you a few of them to look at. It's amazing how paint can transform any piece. Hope you find one you like!
This sofa table received a makeover with a pretty blue and white wax.
This dresser is now ombre!
I had to show you a before with this piece. This is how it was found, in pieces. I used the kreg jig to put it back together, then added a top.
This is the table after with my first success at the chippy milk paint look! I have painted other pieces, but none of them chipped like this. I love it!
This writing desk is painted in a beautiful soft green- one of Martha Stewart's new Vintage Paint line.
Last but not least is this cute kidney vanity seat. After I painted it, I decided it needed something more so I added the cute stencil.
Keep on painting, and if you've never tried it, pick up a brush and get started!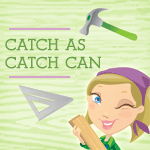 Crafts a la mode