I received some freebies from a friend who bought a house full of stuff. This desk was one of those great freebies:
A solid wood piece, but it's missing some veneer with lots more peeling and bubbling. No drawers either.
This is the best part...all of the side and back are tiger oak! I had to figure out a way to save it!
The first thing I did was figure out what I could replace the missing drawers with. This door came off an old end table, and it fit perfectly. The drawer above it I found in my stack of drawers. It didn't fit so good.
I went back one more time to pick up a few more items and found the large drawer! What did I do with it? I cut it down to make the 2 smaller drawers. The only thing left to fill was the long drawer so I found a silverware box I had re purposed and slid it in there.
Now, for the veneer troubles. I scraped all the veneer off since it really wasn't salvageable. I don't know about you, but I have painted over wood that was under the veneer before. 2 out of 3 times I have problems with that wood cracking in the dry winter months. I also didn't want to do too much paint on top, so I opted to...
This way, it hides the imperfections and the wood can still breathe without the problem of cracking. You will hardly notice if it does anyways.
Here is the rescued desk all finished. What do you think? What would you have done with it?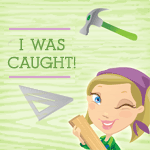 Sharing with: