I love a good freebie! I mean, who doesn't? Furniture freebies are by far my favorite though. It's fun to let the creative juices flow and try different things every time. This desk had a wobbly leg...easily fixable by tightening the bolt. It's surprising how few people think to look underneath a piece of furniture when something goes wrong like a loose leg.

Besides tightening the leg, this desk makeover took 3 easy steps.


Step 1. Sand down the top of the desk, and all the black parts.
Step 2. Stain sanded parts with steel wood vinegar.
If you haven't heard of this great stain, just pour some vinegar in a small container and add steel wool. Let sit overnight and use as a stain!
Step 3. Seal with your choice of sealer. I used clear wax.

Looks like I forgot to take a photo of the table after I sanded and before I stained. This vinegar stain turns that wood a nice aged brown.

I painted the inside of the cubbies a grey color. (Oops, I guess that means 4 steps) Could have gone white, but I was out of white paint. Could have chosen a pop of color, but wanted to make it neutral since I have no idea who will buy this desk.


You can see I did not sand all of the white paint away since I wanted this aged look. I love how it turned out. I could have done the whole desk, but I really wasn't feeling like sanding those legs...if you know what I mean.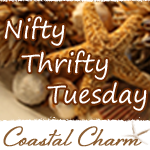 Cedarhill Ranch