I picked up this old lantern from a garage sale last summer. I finally got around to deciding how to paint it. I purchased this paint kit from Michael's , it's a patina antiquing set and it was on clearance!
I set to painting and this is how it went.
This is the original condition of the lantern.
I had my dad help me get the bottom cylinder off since he used to be a welder.
I painted it with the first layer which is a copper paint. After the paint is dry, paint on the second patina green antiquing solution and wait. While it dries I turns green.
This is what it looks like now.
And now I need to decide how to use it.
1. Take out the glass and use it as a bird feeder:
2. Add a base and use it with candles, I would need to find a really cool base.
3. Make it into a succulent planter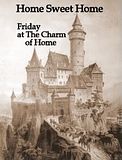 http://www.craftsalamode.com