I was asked to recover these old chairs for someone. I'm sure they were lovely in their prime, but it was time for a change. The faded and stained fabric had to go.
The legs, the velvet, and the nail head are all something my customer wanted to keep, just not in these colors.
To my surprise when I started to take off the nail head trim, I realized just how orange these chairs used to be! Wow!
I did one chair at a time so I wouldn't get the pieces mixed up. After taking all the old fabric off, I painted the legs and arms silver. Then I got to work cutting out and piecing the chairs back together in this classic black velvet.
The nail head trim was done by using the strips where you nail in a nail head every 6th space. This made it a lot easier. I know I wouldn't have been able to nail everyone of those in straight if I hadn't
Here is a picture of the nail head trim on the back of the chair.

Sharing with: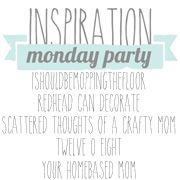 http://www.twiggstudios.com