I did manage to get a few Valentine's Day crafts done so I thought I would share them all at once. No reason to spread them out since they have the same theme...love.
I had some hearts I had gotten from Michaels. They had these cute little hooks on them. The best part? Only .25 cents each! I used the hooks for other projects...hey, when can you get hooks for a quarter? Can't pass them up. I wasn't sure what to do with these hearts so I just started with some paint.
Here is how they came out:
Wouldn't they look so cute hanging in the center of a wreath or on a mirror?
These ones are my favorite. I used some scrap wallpaper with the antique tin tile look that was leftover from my kitchen back splash.
I had some leftover large pieces of wood from cutting down the shelves I used for the coffee table ottoman so I decided to do the key to my heart theme.
There you have it. What are you crafting up for the coming Happy Valentine's Day?
Featured at: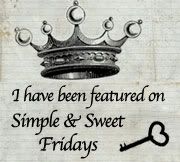 Sharing with:
Becoming Martha