I hope you all had a wonderful Thanksgiving! You may have noticed I took the rest of the week off last week to be with family. Now it's time to get back to busy.
I wanted to try a different graphic than some of the French Typography and the scroll that I recently did. I opted for an angel for this coat rack that I found over the summer while garage salin'.
You will have to picture this with some country kitchen things painted on it. While painting a few other items, with my paint brush in hand, I looked around for something else to paint. Well, you know how it goes...you just get right to painting and forget about the before picture. This isn't the first time it has happened and I know it won't be the last.
I painted a few more coats after this one, then found an awesome angel graphic from
The Graphics Fairy
After it was all painted, I began spreading mod podge where the graphic would go.
I used the same method as before...spread glue on a piece of paper and let it dry. Then you print onto the paper and mod podge it onto where you want the graphic.
WAIT 24 HOURS
After 24 hours, wet the paper. I usually wet a washcloth and let it sit on the paper for a few minutes. When the graphic starts showing through, peel the paper off.
Then you are left with a beautiful graphic!
I just love graphics!
I was featured: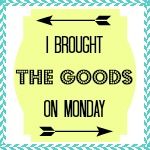 Sharing with: