I am sharing with you today a lamp table I picked up at a garage sale. It needed some work, so I will show you what I did.
This is an old table. It was cracked and it sat uneven due to the crack or the warping. If you look at the legs in this photo, you see 4 holes that are in the middle. The legs actually slide in and out. They were wobbly.
I found a metal bracket of some sort, I believe this one came off of an old crib I re purposed. I attached it with screws to even out the table top.
I also used some wood glue to hold the legs in place and secure them.
The bracket worked wonderfully to get rid of that uneven crack. The wood glue secured the legs so there were no more wobbles.
Here you see the table painted in Slate milk paint from
The Old Fashioned Milk Paint Co
I then dry brushed and washed white chalk paint from
Maison Blanche Paint
over top.
Here is the end result.
Sometimes I look at this table and I love it, and sometimes I think it is missing something. What do you think?
Sharing with:
http://www.madetobeamomma.com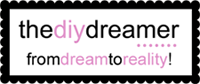 http://thekoenigscreate.blogspot.com/