There have been so many little things I have been doing along with the big projects that have been seen here lately. I thought I would share with you a few little projects that have gotten done. Just a little paint and thinking outside the box.
I started with 2 of these wooden frames I found at a garage sale, they were brand new from Ikea. Using mod podge to add this paper, I created a new frame. A few fabric flowers added am extra touch.
The next one, I painted with some white chalk paint then drew out a chevron pattern.
I filled in the chevron with a pretty blue, but I'm not done yet!
I painted some small rope trim with a bright coral.
I used wood glue to place them around the mirror.
Next, using the same blue and white paint as I did above, I gave a salt and pepper shaker a makeover.
My original plan was to paint them all blue, but after I started painting the bottom detail, I decided to go 2 tone.
Just simple makeovers to add pops of color.

Sharing with: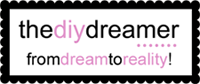 />