Before we get to the party today. I thought I would share a little tip with you. Apparently my daughter doesn't react well to bug bites. After picking berries the other day, she got a few. They swell up and she says they hurt. 2 am rolls along and she is awake and in my room complaining of the pain. I lost my anti-itch cream, just can't find it. Guess what worked and put her back to sleep within 5 minutes?
Toothpaste!
The fluoride is supposed to help with the pain in bug bites, and it works!
Now on to the link party:
I have teamed up with
Raising Dick and Jane
to offer this awesome re purposed party. If you don't have any projects to link up, please browse and enjoy the ones that are.
Do you have any clever re purpose projects? Link them up below!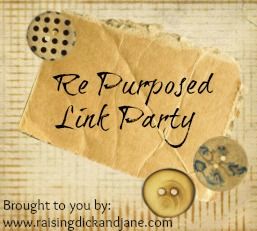 Be sure to link back to the party for a chance to be featured in next weeks party.
By linking up you agree to allow Raising Dick and Jane to use your photos with a link to your post on our blog.
Also:
- Comment on the hosting blog post
- Follow the Hosts
Thrifty Treasures
Raising Dick and Jane
Sharing with: