I have a project I am working on that needed some knobs. I went to my basket of knobs to find I didn't have any that would really go with this piece, at least not the correct number I needed. So after thinking on it a bit, I decided to try something. I took some plain wood knobs and dressed them up a bit. I will show you how I went from plain to fancy.
I used one of my favorite products called
Glacage
. It is like a furniture frosting you can get in different colors to match the original finish. I use it a lot! Anyway, I put some in a ziploc bag, cut off a tiny piece of a corner and piped out (like I was frosting a cake) a design on the knobs.
This is what they look like after the piping. I waited for them to dry.
That's always the hard part, isn't it? You know how I cure my patience? I am always working on a few things at once, that way I am not really waiting, but painting or sanding the next thing.
Here is what it looks like after I painted them in white diy chalk paint. You can see the can of wax I will use in this same picture. I like this dark wax because you don't have to use clear wax first. It is very easy to work with.
Here is the difference after the wax. You can tell I was going for an antique look.
That's how I dressed up some plain knobs. I like them so much better now!
I did the same with the other pair.
These ones didn't turn out as great. Can you tell which ones my son touched to see if they were dry? Anyways, better than plain.
Freatured at: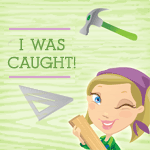 Sharing with: