Freecycle plus
is awesome. I recently was gifted this cute little bench. It reminded me of a primitive bench and I had just in mind how I would make it over.
The cute little curves are irresistible. The black paint, not so much. It is not my color.
I stripped it with Citristrip. Come to find out there were 3 layers of paint on it. Under the black was a red and under that was a blue. I didn't stress about getting all of the colors off, I was going to distress it anyway and some color underneath would add to it's appeal.
After sanding it and cleaning it, I added some
Glacage
to accentuate the curves. I just pipe it on like I am decorating a cake.
2 coats of white diy chalk paint did the trick. Since I was going to distress it I didn't need every spot perfectly white. See the jugs in the right of the photo? Those are my
winter sowing
jugs. I am happy to say that plants are starting to sprout!
Anyway, back to the bench...
I distressed it. I originally had in mind to make it very chippy...but after sanding, and sanding, and sanding some more, I decided it was good enough.
This was a big makeover. It was time consuming due to all of the stripping, sanding, adding detail, painting, distressing...oh my. I protected it with a coat of
Vermont Natural Coatings
wipe on polywhey.
I have to say, I love the result. Hard work pays off; so the saying goes.
I was featured: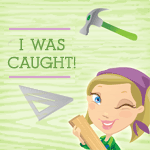 Sharing with: