Monday, I posted how I came across and made over the outside of this
radio cabinet
.
Today, I am going to show you how I made over the inside. I mentioned before that the inside had some holes, and chips so something had to be done.
Here is the inside of the bottom shelf after I painted the inside walls.
With some more of the awesome fabric my wonderful friend Mary gave me, I decoupaged it inside.
Step 1. cut the fabric to fit the space.
Step 2. spread decoupage all over the bottom of the cabinet
Step 3. lay the fabric down and get it just right
Step 4. decoupage over the fabric.
I did the same to the upper cubby of the cabinet.
Here it is all finished. I left the upper cabinet pull down door the original wood since it had such detail about the history of the cabinet and who made it. I didn't want to cover up that history.
sharing with: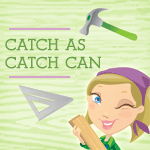 http://www.fivedaysfiveways.com/