I have a very small front porch. It is bare and boring as I have never had anything to put on it. I ran across this crib someone was getting rid of so I decided to make a small bench.
I have a few different ones as you can see int the background. In this project I just used one.
I started by building a box for the support of the seat. I used wood glue and screws to hold the joints together. No kreg jig here or it would make it prettier...ahh, someday.
Screws go in a bit easier if you rub them in soap first.
Next step was attaching the box to the crib frame.
I made my legs from cutting this almost in half.
After adding some glue to the post, I added screws to attach them.
Here is what it looks like so far. Now for a seat...
We cut (by we I mean my hubby helped me this time) some various sized boards and nailed them in place. I then filled in all the holes on the crib with wood filler. I decided to add some decorative trim I had lying around to the front of it.
Every time I build something like this, I learn a little more. It is fun to see what you can come up with.
I was featured: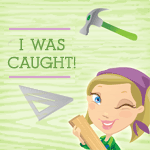 Sharing with: