I absolutely love these! My bedroom door slams shut whenever my daughters and my windows are open. I needed something that would keep it open and look nice. These door stops are the perfect solution and addicting to make. I am stocking up for my next craft show!
Very simple to make with some scraps. Scraps I have used: 4x4, 1/2" x 6" board cut to size, furniture leg upside down, scrap trim molding, thick part of a bed post, finials, basically anything I can find. With a little paint and some glaze or wax and you have created a unique and interesting door stop.
Here is a break down of me building one:
This is part of a foot board. I plant to cut off the top almost 1/2 of it.
I cut a small square from some wood I have lying around, and as you can see here is the chunk from the foot board.
With a big gaping hole!
I glued it together using gorilla glue, wood glue works too. You can put in a screw from the bottom if you wish.
Here it is after I have glued the base and a finial on top.
Now for filling in the huge space, I used caulk. I didn't have painters caulk, which is what I would recommend so after it was dry I went over it with some wood filler.
This is it completed by a little distressing and glazing with some black paint mixed with an antiquing medium.
Featured at: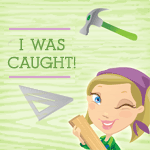 Sharing with: